Tel. +49 (30) 201 44 610 · Tel. +49 (30) 283 91 700 · Fax +49 (30) 201 44 611

 Unter den Linden 16  ·  10117 Berlin

____________________________

Appointments via E-Mail 
Enter your phone-number, please.
Opening hours

Monday - Thursday
9:30 - 18:00
Friday
9:00 - 14:00
Dear Patients,
Welcome to our Homepage.
Our diagnostic and therapeutic services in Berlin Mitte are based on the highest standards and most recent scientific findings. Our skills and knowledge kept up to date by attending international conferences and through global cooperation with partner clinics and other specialized physicians. By maintaining these international collaborations, our clinic has close relations and connections with the best institutions globally. Due to these international collaborations the Paulig Eye Clinic globally belongs to the best reputated institutions.
On entering »The Paulig Eye Clinic«, you will be welcomed by our commited, professional and highly trained team.
You are hereby invited to visit our exclusive and redesigned Beautylounge
where you will experience the most innovative methods and cosmetic products.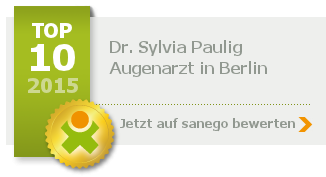 We are supporting the police in their fight against child crime.
NEW
Member of the WOSAAM
(World Society of Anti Aging Medicine)